November 2018
Hello everyone,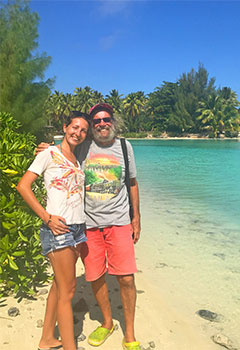 A new navigation mode...
There is the orthodromic navigation (keeping a constant angle with the meridians, so a straight line on a Mercator projection), the loxodromic navigation (the shortest distance on the globe). My regretted friend, the navigator and writer Gerard Borg had invented zigzagodromic navigation, easy to define. For my part I had, according to a friend navigator - found one day in the i Cocos Keeling islands while at our previous meeting, I had told him I was going to sail to Singapore - invented "a posteriori" navigation "So, what, you look at the place wher you've arrived, and you say that's where you wanted to go? ".


I had quite the same sensation during this month of October when, leaving for New Zealand on a route supposed to pose no difficulty until the last few days, I ran into problem after problem; on Aitutaki island, a phytosanitary official who happily took away all our supplies of fruits, vegetables and meat for a month's crossing, after having - horror - sprayed them with a powerful insecticide; the next night, on a very messy sea, the ring fixed at the stern end of my mainsail by an armful of straps was inexplicably divorced from the sail, forcing us to constantly reep a reef down ... which fell well, because the wind began to blow hard, we were shaken day after night, propelling us at high speed, but not fast enough, because the forecast when approaching New Zealand deteriorated ...


Since the time I strongly advise all my readers to never start a crossing (especially a little tricky) with a deadline .. .That is exactly what I did! Soon it became apparent that the appointments made by yours truly as well as those of my daughter Vaimiti and her boyfriend Stephane would not leave us enough time to arrive ... So we set sail for Tonga, a fascinating archipelago by the way and of which I will have the opportunity to talk to you, since it is there that on this November 2nd I'll haul out the boat and that it will wait for me until February-March, while we will make our tour of lectures (it will be announced on Michel Drucker's show in the second half of this month), and that we will stay some time in New Zealand (reached by plane!) to prepare a shooting that I wish to make, and about which I will talk to you again.




The few images illustrating this letter show the nicest moments of our adventure, the less pleasant moments are already forgotten! See you on the roads of France, from Pau to Blaye and from Rochefort to Dinard between November 20th and December 21st.And November anew !
---
Previous letter | Next letter