October 2022
Hello everyone,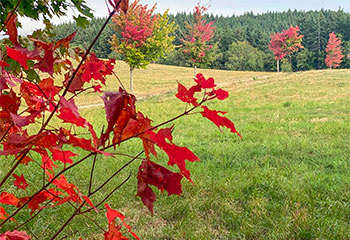 An early autumn?
Following the heat waves of this summer, the maples along our path adopted the tactic they usually only take at the end of October/beginning of November: they turned (partially) bright red; this had one advantage, when they turn red in autumn, their leaves are already ready to fly away, and they do so at the first breath of wind; while these abnormal summer colors last much longer : the leaves must be better clinging to the branches.
We left Auvergne for a few days to give a lecture about New Zealand in a pretty theatre in the small town of Le Quesnoy, just a few kilometers from the Belgian border; surrounded by ramparts built over the centuries (since the 12th century, and modified by Vauban), the town had been taken by the Germans in 1914; four (oppressive) years later, it was New Zealand soldiers who liberated it by lighting a large fire and taking advantage of the smoke to climb the ramparts. Since then, Le Quesnoy has had strong links with the land of Kiwi, and it was an association dedicated to this friendship that welcomed us.
Impressively, in this park, the silhouettes of New Zealand soldiers cut out through a commemorative metal plate draw the emblematic New Zealand fern... The other historical fact of the region is the passage in the 19th century of R-L Stevenson, who had not yet written his unforgettable books; with a friend, he sailed from Belgium to Paris on double rowing boats. His memory can be found along narrow navigable canals, and in the pretty town of Landrecies, or, nearby, in the village of Maroilles (don't miss the cheese produced here, in the natural park of the Avesnois. and the delicious « flamiche » pies made from it.)

We are still enjoying the beauty of our Auvergne, the temperatures have dropped, but the sun is shining, as are the flowers of the Gaura, which seem to have caught fire; we will stay here until the beginning of November, when we will be on the road again for a new tour in the CGR cinemas; we'll keep you informed.