September 2022
Hello everyone,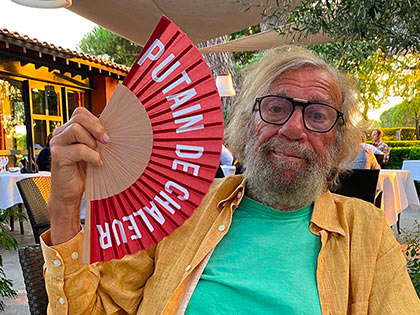 Back from holiday
Poof, poof, I feel like these two months of summer have gone by in a few minutes... We didn't travel much, except for a short trip to our friends in Salinelles, in the Gard region, where we visited a vineyard we love (but consume in moderation): the Pic Saint Loup, north of Montpellier, with a guided tour of the cellars and the vines at sunset.
Otherwise, we stayed in Auvergne, growing raspberries, zucchini flowers, tomatoes... but the blue lagoon was not far away : to fight against the heat waves we have installed a removable above-ground swimming pool inside a barn, and with some nice pictures of far away islands, it felt like we were there.
Also I'm doing some rehabilitation in the blue water, because apart from a little shoulder problem I had while working on the boat in Australia in April-May, I had a small accident when I climbed up a ladder to inspect an attic where I was afraid to find a hornet's nest; there wasn't any, but when I came down, the ladder slipped... fortunately I was not very high, but I sprained my ankle; hence the photo of my feet (facing the Puys chain) with a strange thing, which is not a surrealist tattoo but an adhesive bandage intended to fight against oedema !

After the heat, the rains came back on the thirsty nature; we even took out the umbrella; we are staying here for two more weeks, and then we will do a conference on New Zealand in Le Quesnoy, in the region of Valenciennes, : Le Quesnoy keeps a very strong link with New Zealand since during the First World War, New Zealand soldiers liberated the town from the Germans.


That's it for today, I'll keep you posted on our projects in the near future.
Have a good start to the new school year Antoine
---
Previous letter
|
Next letter