October 2019
Hello everyone,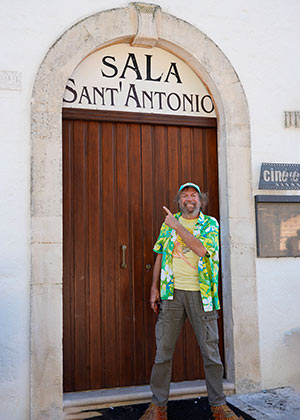 Trulli Beautiful
During all my Italian years, from 1967 to 1971, at the time of Pietre, La Tramontana, Taxi, etc ... as well as during my many trips to Italy for the numerous shootings made for Osvaldo Bevilacqua ?s« Sereno Variabile" show on Rai Due, I had never had the opportunity to visit the Puglia region; but friends, relatives, about everyone, in fact, had recommended it so much, that this autumn, before returning to the Pacific, we left our house in Auvergne for a week in Puglia.

And sincerely, we do not regret it, because we got our eyes full:



In the Trulli, these astonishing smurfs houses built with the billions of stones that fill the region?s olive groves ; a legend wants it that this type of construction was born at the time when a lord imposed heavy taxes on houses: by removing the central post that supported the vault when a tax collector was approaching, the construction collapsed, and hop! no more house to tax!



In various ports of the Adriatic, such as Monopoli, Polignano (in the footsteps of great Italian singer Domenico Modugno, who popularized the song « Volare » recorded since by all the greatest artists in the world from Louis Armstrong to Barbara Streisand, both Franks (Sinatra and Zappa), Paul McCartney, and recently a huge hit in the US for the Gipsy Kings).


Altamura, where was discovered thirty years ago the best preserved skeleton in the world of a Neanderthal man; several museums are dedicated to this character, with a striking reproduction of him in one of them.



In Matera, named the Cultural Capital of Europe for 2019, and noted for its "Sassi" (stones): troglodyte dwellings which, in the 1950s, were emptied of the families who lived in them in the deepest poverty, little by to little renovated, these homes become a spectacular cultural and tourist destination.

around the peninsula of Gargano, where Francette absolutely wanted to photograph the Trabucco da Mimi, which served as a model for that of French writer Laurent Gaudé's novel, Sous le soleil des Scorta.

We will begin the month of October in the region of Lecce, then a few days in Paris to prepare our next shootings in New Zealand. In the meantime, may fate grant you an excellent October ! Antoine
---
Previous letter | Next letter