February 2023
Hello everyone,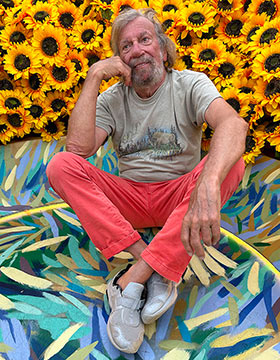 Three sisters, Van Gogh and kangaroos
On this last (rainy) day of January, we are getting ready to leave Lake Macquarie, but not for New Zealand, as the weather forecast has been promising only headwinds for weeks, but towards the north, Queensland and the pleasant city of Brisbane...Before closing this stay in New South Wales, we went for a little trip - planned for a long time - with our friends Serge and Claudie, French people who have been living here for 40 years, and who take care of Banana Split when I'm not there. Arnaud, who has worked for Ushuaia and our documentaries for a long time, and who has made many stays with his family on Banana Split, joined us to discover the landscapes of this "Grand Canyon" of Australia dominated by the picturesque Three Sisters, and planted with a rich vegetation, such as the spectacular Banksia, with its amazing flower.
A quick meal in a quaint deli in the town of Katoombah, then we drove through Sydney to see the Australian edition of the "Van Gogh Alive" exhibition, the beauty of which we had long been told. No originals of the painter, but an extremely moving picture show, a wealth of information about his life, and the honour of sitting for a moment in the middle of the sunflowers dear to Van Gogh or in his little Provençal room!
Some sumptuous beaches stretch for dozens of kilometres along the Tasman Sea shoreline; we admired a few of them, and then we couldn't fail to go back and say hello to the peaceful kangaroos that live in freedom in a park near Wyee Point.