April 2020
Hello everyone,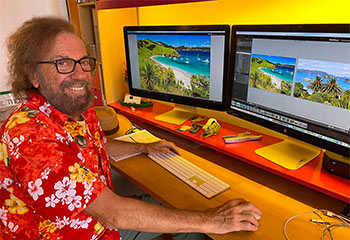 Containment News
Our conference tour had started well, lots of people in Cagnes-sur-Mer, in Draguignan.. and then, the specter of the coronavirus spreading more and more over France, it quickly proved wise to push back to the end of the year the whole tour, which had nevertheless been the occasion for some nice meetings: some of our most assiduous fans, Claude, Bassarab, or Martine who I believe has "liked" all of our posts on facebook since the creation of "Les voyages d'Antoine".

Some longtime friends, such as Jean met on his sailboat Lula in Djibouti in 1980, or Bruno, the king of the Truffle, in his restaurant in Lorgues; Bertrand who welcomed us in his beautiful house near the fascinating city of Sommières; Very popular French singer Daniel Guichard who showed us around his road vessel, the huge RV he uses when he goes on tour. A fan of my song "Just a few snowflakes falling" also visited us,
showing us the clip he made.
In Perpignan, a warm (and delicious) meeting with an exceptional chocolate maker, Olivier Bajard. On the sweet side, an unforgettable cake decorated in the colors of our Caribbean film, offered by one of these dynamic and warm teams that we met and appreciated in each of the eleven CGR cinemas visited.
A few more stops, in the Corbières region, then in Carcassonne, at the extraordinary Norbert's, who welcomed all the celebrities of France at his table in the shade of the fabulous Cité. And to reduce the bitterness of the interruption of our tour, a delicious salt-crusted chicken at l?Aubergade, Michel and Maryse Trama's Relais et Chateaux, (before being a chef Michel was a diver with the Cousteau team ).
We made a quick stop in Auvergne, but we chose, for various reasons, while the boat is waiting for us peacefully in Australia, to face the confinement in Francette's apartment in Boulogne, and that's where write this letter to you, encouraging you to scrupulously respect the instructions of "social distancing", as the anglophones say.
To brighten up your confinment from time to time, we publish several times a week on Instagram, Facebook and on this site a "postcard" of a few minutes about one of the most beautiful islands we have visited over all these years. We will visit others again when this dreadful virus has cleared the field. A warm kiss to yoy (harmlessly over the Internet), and if we can't shake hands for the moment, let's stick together. Antoine
---
Previous letter | Next letter